Congratulations, Emily!!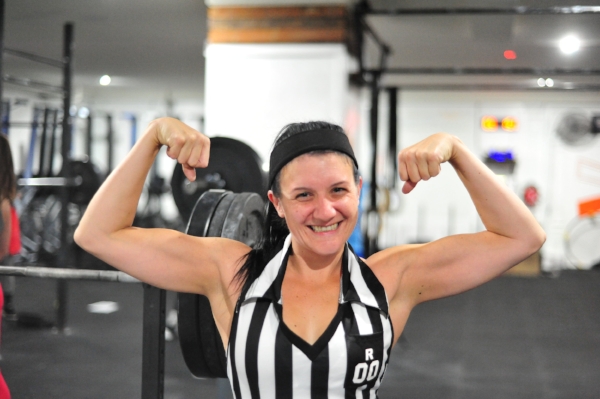 Once a month, our community votes to recognize a single member who embodies the spirit of Subversus Fitness. He/she is someone who has a good attitude, even on the toughest days, is always there to lend support to fellow athletes, and generally goes the extra mile to help build our community to become even more awesome. When it's time to vote, we send a reminder email out to the entire crew, but if you ever see another member do something really cool for you or the gym in general, feel free to shoot us an email at info@crossfitcc.com or leave a note in the box to tell us what happened! Our Member of the Month is always awarded a FREE month of membership to Subversus.
What some of you had to say about Emily!
"What can I say? Emily is one of the strongest, bravest and most positive people I know. Not only had she begun her sobriety and CrossFit journey at the same time, but she has continued to make huge gains in both over the last year! Her attitude, warmth and drive have made her a tremendous athlete and great friend. Can't wait to see her hit her goal of regionals and games (?!) in the years to come!" –Dani
"I am beyond thrilled to see that Emily has won member of the month! This award couldn't go to a more deserving member. Emily and I quickly became friends when she started at Subversus and I am so glad we did. Since then she has always lended an ear or been there to make me laugh. She is a friendly face in this gym and always make sure everyone feels welcome.
Emily is the definition of "when life gives you lemons, you make lemonade". Emily has become a warrior thorough some of life's really hard tests. But no matter what, she shows ups, gives her workout 100%, crushes her macros and shows back up the next day for more. She is a fighter and does not give up—no matter what she is doing! Emily you are such an inspiration to me, and I am a better person for knowing you! Congrats!!" – Alexa
"I am so excited that Emily won MOTM!!! She is definitely worthy of this honor. When I started at Subversus she was very welcoming, as she is to all of us, and she made me feel right at home. She doesn't treat everything like a competition; she wants you to do well just as much as she wants herself to! I love having that support at the gym.
What inspires me the most about Emily is her constant positivity and hard work ethic through the highs and lows. She is so positive that you cannot even tell when she is at a low. She always pushes me to be better. What more could you ask from someone? Congrats Emily!" –Emma
"Emily was the first person to talk to me at Subversus, and recognized me every time I came right from the beginning. Even after she had a stroke in the fall, and then was in the process of getting diagnosed, she'd always be there cheering everyone on, and she remembered me (the newbie). I've been so inspired by her passion and hard work for almost six months now, as she has overcome every obstacle thrown at her and done it was grace and humor. Being around her makes me want to work harder; having her in class with me keeps me going; listening to her as a coach makes me stronger both mentally and physically. She always has a smile and kind word for everyone, and welcomes the newbies in with the regulars, instantly creating links for others to enter and observe the wonderful community at our gym. I couldn't think of anyone who deserved this honor more than Emily!!!" – Rachel T.
"No one deserves this award more than Emily. She's improved so much in the past year, and works harder at CrossFit than anyone I know. No matter what obstacles are in her way, she won't let any of them interfere with her fitness goals. It was great to see her incredible pull ups and toes to bar in the In-House Competition, and she was especially impressive in the first Open workout. Congratulations Emily!" –Greg
"Emily Molnar definitely brings the sunshine into the basement of dreams. I have never met someone so genuinely kind and positive who lifts everyone up around her. Despite having her own personal hardships, Em is often the first to volunteer to help out wherever needed and is always there to cheer for her fellow members. I'm so proud to call her a friend and could not imagine a more deserving person for member of the month! Keep doing you and never change. Can't wait to see how much you accomplish!" – Sam L.
Congratulations from the Coaches!
"Emily's relentless commitment to her self betterment is tangible. She is invested in helping us grow our community and is so clearly excited to have people fall in love with CrossFit as much as she has. She's been positive in the face of what would make many of us crumble, and she's inspiring those around her by reminding us that we are all in charge of our own mindset." – Morgan
"This is great! Emily has been a member for over a year, and has made amazing progress as an athlete, a person, and as a member of our community! Always putting in the work to get better, and offering up her struggles to others as an example of how to constantly move forward regardless of the obstacle, Emily is a fine example of how prioritizing one's own health and well-being can lift up others. I'm excited to see what the next year brings— congratulations!" – Justin
"Well deserved for obvious reasons. Emily has been keeping her head up and working hard to stay positive no matter the curveballs that have been thrown at her. Even when she wasn't able to train herself, she was still coming in to judge other folks throughout the Open. What a great example of overcoming adversity." – Ave
"This is very exciting! A well deserved win by a person who has brought so much to this place. Keep moving forward!" – Tim
"There is a saying that we are only faced with the challenges which we have the unique strength to overcome and that becomes our journey. Emily's steadfast determination to face any obstacle with a smile and hard-work is amazing. We're lucky to be able to watch people triumph over adversity as a job, however the grace with which Emily does just that is truly inspiring." –Wylie
Now, from the winner herself!
What's your day job and profession?
I am crossfitter, fighting cancer and trying to save the world. When not doing all those things I am a personal trainer and currently studying for my level 1 certification! #CoachesPrep
What's your favorite workout?
My favorite workout is anything soul crushing…I love a good chipper, even burpees with a purpose, ya know like over a barbell! Deadlift day is always my favorite day though!!
What's a goal or something that you're working on?
Right now I am working on gaining upper body strength but my current goals are strict HSPUs and ring muscle ups…and a heavier clean!
What's something about you that most people don't know?
So there are two things most people probably don't know about me. The first is that I spent much of my younger years (high school & college) riding BMX. Part of the reason I picked Drexel was all the spots Philly has to ride. The other thing is I have a passion for welding. I don't get to do it often but I really enjoy it and debated even going back to school for it!
Keep crushing it Emily!!